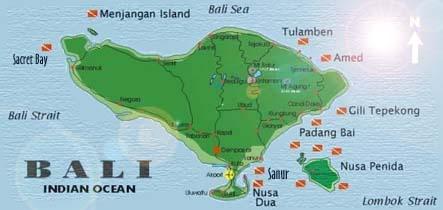 Padang Bai Dive Site:
This point the bottom a white sand wide terace at 6-10 meters, a slightly slope eases down to 15-25 meters, followed by flat sand at 40 meters, with scattered rocks and boulders.

Althought here are quite a number of giant anemones, crinoids of varying colors, odd clumps of tunicates and a few sponges. Short wall drops close to 40 meters.


Type of dive: Boat diving (5 to 10 minutes)

Visibility: Variable; poor to good, 6-15 meters

Water movement: Usually gentle, but up to 3 konts current, and also strong surge here.

Marine life: Patches of soft coral, seagrass, Caulerpa, Halimeda and other algas, hydroid bushes, and some bushes of branching Acropora. A number of interesting surprises for a diver-sharks, octopus, eel, stonefish, nudibranch, leaf scorpionfish, titan triggerfish, squid, blue-spoted stringrays, blue reebon eel, stonefish, wobbegongs, catsharks, seahorse, robust ghose pipefish, and saron shrimp.

Diver level: Open water diver or above

Access: 1 hour 45 min from Kuta, Legian, Semenjak, Sanur, Nusa Dua

Highlights: Big reef rays and Titan triggerfish

Other: Morning dive 7:00 - 9:00 better chance to avoid surge. A photographer or a diver interesting in unusual marine life-could spend a week here without getting bored.

Descriptions of Bali dive sites
Secret Bay | Menjangan | Tulamben | Amed
Candi Dasa | Padang Bai | Nusa Penida | Nusa Dua