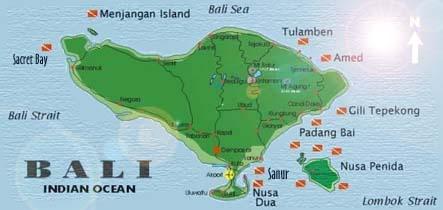 Nusa Dua Dive Site:
Here is very shallow reef flat, white sand, and a slightly sloping bottom with scattered coral formation. And the coral cover here is not fantastic, but the mini-pinnacles drew plentiful fish life with a good variety of species.


Type of dive: Boat diving (5 min and 10 min for big rock point)
Visibility: Low, 6-8 m (can reach 15 m on accasion)

Water movement: Very gentle current and surge is also here

Marine life: Limited coverage and few species of coral, but surpringly good variety of fishes (Yellowtail fusiliers, blue lined snappers, bigeyes soldier fish, damsels, basslets, surgeon fish, rabbit fish, groupers, unicorn fish, butterfly fish)

Diver level: Refresher and open water diver or above

Access: 30 min from main tourist place; Kuta, Legian, Semenjak, Sanur and 5 to 10 min for Nusa Dua

Highlights: frogfish, sea snake, bad fish, when you dive slow and observe.

Other: The reef to the north off the Sanur coast is wide tidal flat behind the reef front, it makes impossible to access at low tide. The variety of fishes is quite good in Sanur, but there is even less coral cover than at Nusa Dua.
Descriptions of Bali dive sites
Secret Bay | Menjangan | Tulamben | Amed
Candi Dasa | Padang Bai | Nusa Penida | Nusa Dua
---
---