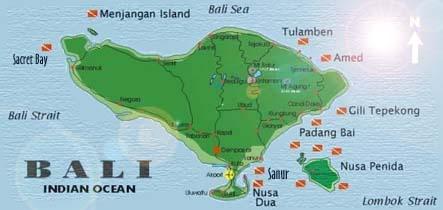 Geography and Climate
The island of Bali was shaped by the action of volcanoes, which produced the rich, black soils that nourish Bali's beautiful and productive rice paddies. Just 8-9 south of the equator.

Bali is tropical, and daily highs average 31 C ( 88 F) and nightly lows, 22 C (72 F). The wet normally runs from October to April, with peak rainfall in December and January. The dry runs from May to September, rainfall is less frequent. January is the wettest month and September is the driest.

Bali's great strength is that it is NOT isolated. The island's reefs are ideally positioned to recieve a cosmopolitan assortment of plankton and juvenile animals from the Indonesia Throughflow, a massive flow of water that passes from the Pacific to the Indian Ocean. Because of this combination, perhaps Bali is just to familiar to be considered a great diving area.


Dive Sites
There are five main areas for diving in Bali, working counter clockwise around the island from the airport in the south: Nusa Dua and Sanur; Nusa Penida; Candi Dasa(Gili Mimpang, Gili Tepekong, Biaha), Padang Bai; Amed/Cemeluk and Tulamben; Pemutaran, Menjangan and Gilimanuk (Secret Bay). Each area offers dive locations for novice, intermediate and advanced divers. At most sites, divers can plan a dive to match their degree of experience, and dives can be made around the year.

Depth:
The best diving lies between 5 and 40 meters.

Marine Life:
The varied inhabitants of Bali reefs. " different fields, different grasshoppers."

Visibility:
Variable, 5-15 m, exceeds 30 m.

Water Temperature:
Normally 26 - 27 C (78 - 80 F). During July and August, the temperature drops to 21 C (70 F)
High Seasons:
July-August and around Christmas and New Year.

Highlights:

Tulamben The Liberty Wreck 120 meters long (hit by Japanese submarine in 1942)
Menjangan Wooden anker wreck, cave and craggy wall
Nusa Penida Mantas, Sharks, and between Aug-Sept Mola-Mola (sun fish)
Secret Bay rare critters muck diving
Padang Bai macro animals
Candi Dasa Canyon and sharks
Descriptions of Bali dive sites
Secret Bay | Menjangan | Tulamben | Amed
Candi Dasa | Padang Bai | Nusa Penida | Nusa Dua
---
---